I am linking up with Mrs. Wills Kindergarten for a Love to Joplin Linky Party!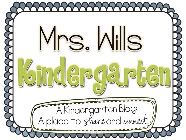 What a great idea! I sent lots of materials and hope as many teachers as possible are able to do the same.
On another note, I just posted my Read/Write the Room stations on TPT. I love read the room stations. They are so easy to change out and the kids love them! I made a station for each month of the year and they cover many different vowel sounds.
Here is a freebie from the kit for February!
Click here

Enjoy! I'm going to watch the Saints! Who dat! I sure hope they do better than my Tigers!!